Disclosure: Top10VPN.com is reader-supported. We may earn commissions if you buy a VPN through links on our site.
TunnelBear Free Review
Ranked #39 out of 72 VPNs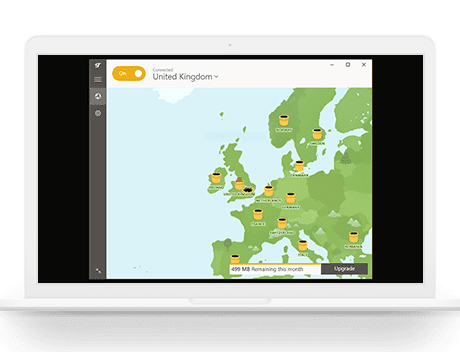 Read TunnelBear Free user reviews
TunnelBear is perhaps the funnest VPN on the market — its bear theme is sure to win people over, but is there something grizzly beneath all that cuteness?
This is a particularly important question when it comes to a free VPN service, which our default attitude towards is distrust, because more often or not it costs something — usually your privacy. 
We're not easy to impress, so we put the bear under the microscope so that we can get answers to these questions:
Is it a safe VPN?

Is TunnelBear Free good?

What are its limitations?

Paid vs TunnelBear Free?
If you're interested in the premium version of TunnelBear, we also wrote a separate review for that, which you can read here.
Before we start, here's a quick look at TunnelBear Free's pros and cons:
TunnelBear Free Pros & Cons
Good local downloads
Great user-friendly apps for popular devices
Minimal logging policy
Connect securely to 23 countries
VPN kill switch and DNS leak protection
Stingy 500MB monthly data cap
No access to Netflix or iPlayer
No live chat support
TunnelBear Free Key Summary
Data Cap
Speed
Logging Policy
Data Leaks
Jurisdiction
Servers
IP Addresses
Countries
US Netflix
Torrenting
Works in China
Support
Official Website
Premium
Free
Unlimited
500MB
77Mbps
52Mbps
Anonymous Server Usage Data
Anonymous Server Usage Data
No
No
Canada (Five-Eyes Member)
Canada (Five-Eyes Member)
Not disclosed
Not disclosed
Not disclosed
Not disclosed
23
23
No
No
Unlimited
Permitted
Unreliable
Unreliable
Email & Online Resources Only
Email & Online Resources Only
Tunnelbear.com
Who is TunnelBear Free?
About & Logging
TunnelBear was independently founded in 2011, but is now owned by McAfee, an American security software giant based in California.
TunnelBear itself is located in Toronto, Canada. This means it's subject to intrusive surveillance laws and intelligence-sharing agreements with countries like the US and UK.
The policy states that it will comply with Canadian law enforcement agencies if supplied subpoenas, warrants, or other legal documents.
But does any of that actually matter?
We aren't at all concerned by it, as TunnelBear Free doesn't collect any information that could trace your online activity back to you.
Logging Policy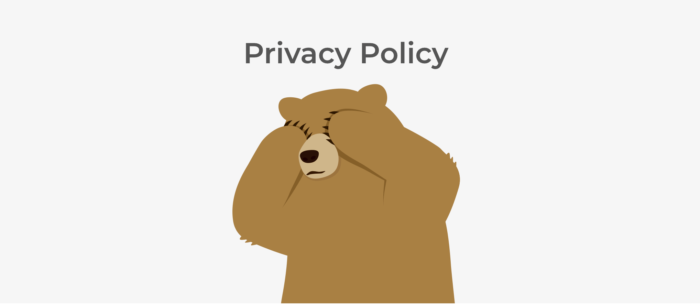 TunnelBear's logging policy is applicable to premium and free users and it's one of the clearest privacy policies we've seen so far. 
TunnelBear Free is pretty close to zero-logs, collecting very minimal data, including bandwidth used, lifetime connections and whether you've connected in the last month.
The following basic connection metadata is stored and used for TunnelBear customer support:
Your OS version
The version of the TunnelBear app you use
Total bandwidth used this month
Whether or not you've connected in the last month
So, TunnelBear does log some data, but this is not personally identifiable and is used for troubleshooting purposes to monitor data caps on the free plan. In other words: it's safe. 
TunnelBear was also recently featured in a report conducted by the CDT (Center for Democracy & Technology) on Signals of Trustworthy VPNs.
It states that each VPN server features full disk encryption, malware scans, and intrusion protection techniques, designed to protect user privacy as much as possible. 
It also releases an annual audit of its methodology and a transparency report and makes this available for the public to read.
Surprisingly good performance speeds
Speed & Reliability
Local Speed Test Results
Before using TunnelBear Free:
95

78

Ping

ms

12
When connected to TunnelBear Free:
52

45

Ping

ms

34
Download speed without TunnelBear Free: 95Mbps
Download speed with TunnelBear Free: 52Mbps
Our download speed loss when TunnelBear Free is running: 46%
TunnelBear Free's speed was surprisingly good – almost as fast as the premium service. It allows for buffer-free streaming and multiple file downloads. 
But, TunnelBear Free's performance is limited to a 500MB monthly data cap. This made testing it very time-consuming, as we kept reaching our bandwidth limit and had to create four different accounts. 
Local latency was also one of the lowest we've seen from a free VPN – just 8ms in London (where we're based). Although, keen gamers may want to consider alternatives that offer even lower ping times, such as one of our top picks, IPVanish. 
Decent sized network for free service
Server Locations
23
Countries
23
Cities
Undisclosed number of
IP Addresses
For a free VPN service, TunnelBear Free's server network is a decent size: there are 23 countries available. The popular locations are covered, and there are a few located in Asia and one in South America, but none in Africa. If you live far away from the servers you may suffer poor VPN performance.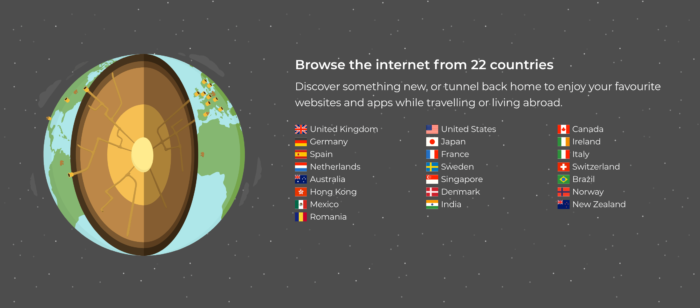 TunnelBear Free has no city-level VPN server choice, but this is also the case with the premium service.
Completely worthless for streaming and torrenting
Streaming & Torrenting
TunnelBear Free is absolutely no good for streaming.
It doesn't work for Netflix or BBC iPlayer, and the stingy 500MB monthly data cap means that you cannot watch more than half an hour of HD video content anyway.
If you're looking for quick, easy access to popular streaming sites, you're most likely going to have to consider a paid provider – our top pick is ExpressVPN.
Torrenting
But is TunnelBear Free good for torrenting? We can confirm that TunnelBear Free is a safe VPN that allows torrenting in all locations.
However, you're not going to be able to upload or download much content without running out of data. This is a shame considering the great local server speeds and the robust privacy policy.
TunnelBear Free has a VPN kill switch which should help keep you secure while torrenting, which is good, while its logging policy means your activities are kept private.
If you're looking to torrent with a VPN, it's best to visit our best free VPNs for torrenting here.
GhostBear mode circumvents censorship, but not in China
Censorship
China's harsh restrictions on VPN providers means that TunnelBear Free won't work within the country.
TunnelBear Free does offer additional obfuscation tools to help bypass the Great Firewall (GhostBear mode), but it isn't guaranteed to work 100% of the time. Some complain that it doesn't work at all.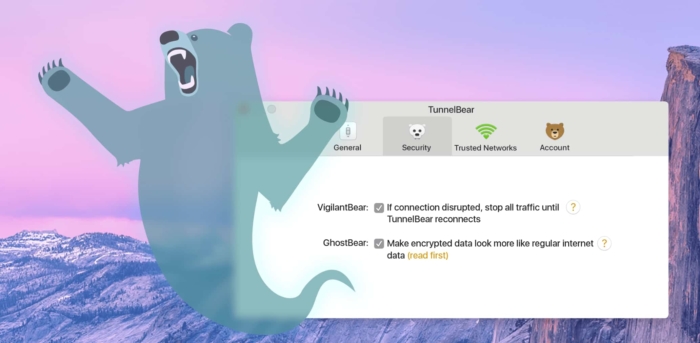 If you need a VPN for China that definitely works, consult our guide to the Best VPN for China.
Still, TunnelBear Free remains a decent option for other high-censorship countries, like Turkey and the UAE, thanks to the GhostBear protocol designed to disguise your connection to a VPN.
The data cap, again, is an issue, but it will do the job if you need to quickly access a few government-blocked sites.
Popular devices covered, but no manual workarounds
Platforms & Devices
Apps
Windows
Mac
iOS
Android
Linux
TunnelBear's free VPN is available on:
It's also available, with some manual configuration, on Linux. There aren't any manual workarounds for other platforms, unfortunately, including routers. 
You can use the TunnelBear Free app on up to five devices at once. But with that 500MB data cap, we wouldn't advise it.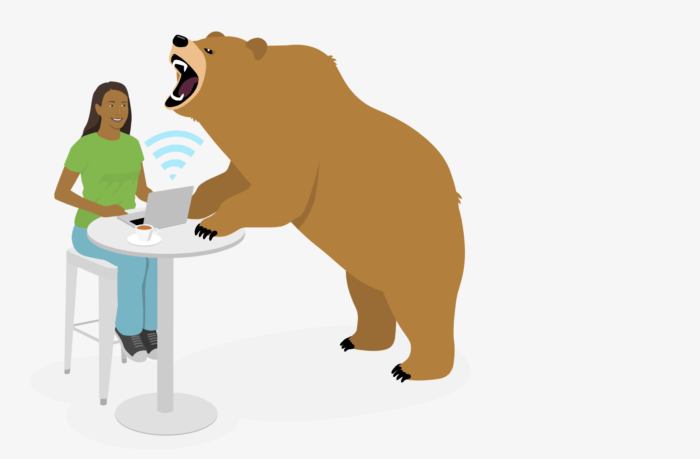 Browser Extensions
Chrome
Firefox
TunnelBear has offers proxy extensions for Google Chrome, Mozilla Firefox, and Opera browsers.
These don't provide the same level of protection as the other custom apps, though, as they aren't full VPNs. TunnelBear's proxy browser extensions will simply hide your IP address in order to access blocked content.
Very good security measures
Encryption & Security
Protocols

IKEv2/IPSec

OpenVPN (TCP/UDP)

Encryption

AES-256

Security

DNS Leak Blocking

First-party DNS

VPN Kill Switch

Advanced features

Split Tunneling
Please see our VPN Glossary if these terms confuse you and would like to learn more.
Is TunnelBear Free safe? Well, it provides the same level of privacy as its paid service, which is great. 
OpenVPN and IKEv2 are the VPN protocols used for the Windows and iOS, and OpenVPN is exclusively used for MacOS and Android. OpenVPN is our preferred protocol for its balance of performance and privacy but IKEv2 is very secure, too. 
On top of that, TunnelBear Free's encryption is via top cipher AES-256.
We also really like 'Vigilant Mode', TunnelBear Free's version of a VPN kill switch. Our tests also confirmed protection against IP and DNS leaks.
Fun bear-themed apps with good advanced settings
Ease of Use
How to Install & Set Up TunnelBear Free
If you like bears, you'll love TunnelBear's design. All you have to do is click on a server location on an interactive world map and wait for the bear to tunnel through the earth and pop out in your chosen server location. Its apps are really simple to install and use.
You can keep track of your bandwidth usage, which is a nice touch too. The downside of TunnelBear Free's apps is that you don't receive a pop-up when you've exceeded your limit. That means if you don't have Vigilant Mode mode on, your true IP address will be exposed without you knowing.
It's refreshing to see a free VPN offering advanced settings. Still, swiping around TunnelBear's world map to find a server location can get boring after you've already done it a few times.
No live chat, but email support is good
Customer Support
| | |
| --- | --- |
| Email support via an online form | Yes |
| Online Resources | Yes |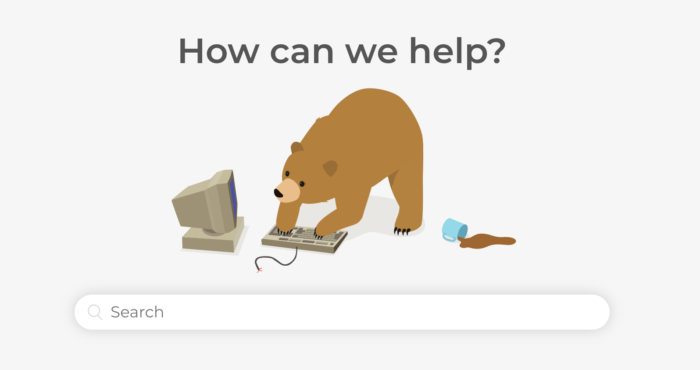 TunnelBear's customer support for free users is up there with some of the best we've seen from a complimentary service.
The online resources are put together well and make an effort to ensure accessibility for beginners. 
However, as VPN customer support goes, TunnelBear is quite basic and doesn't offer much to experienced users who want detailed answers.
There's also no TunnelBear live chat, only the help of Support Bears via email. We submitted a form and received a response 24 hours later, which is later than we'd like but it answered the question fine.
You have to create an account in order to contact support, which is no good for those who have questions before they sign up. 
You've read our expert review - read on for reviews from real users.
We value your opinion, whether it's positive or negative. Please leave a helpful and informative review, and don't disclose personal information or use abusive language. All user reviews are moderated to ensure they meet our posting guidelines.
Already use TunnelBear Free? Tell us what you think.
When a review is marked "Verified Customer" it means we've verified that the reviewer has had a genuine experience with the company.
Showing 1 out of 1 reviews
I've had this on my iPhone for several years now. I use it very lightly - maybe up to three times per year. It's been easy to use, reliable, and the convenient selection of tunnel locations has been helpful. Needed tech help once and was happy with their response. Recommended. (Did try to use it in China about a year and a half ago but that didn't work. Can't blame TunnelBear as few if any VPN's get through the "Great Wall".)

Simon | Top10VPN Expert

Hi Richpond. Thanks for your review! While it's not guaranteed to always work, be sure to enable 'GhostBear' within the TunnelBear app while in China. This is a 'stealth' protocol designed to bypass censorship. However, TunnelBear isn't the most reliable VPN service for China, unfortunately.