It's really easy to set up a VPN on a Windows computer so the process should only take you a few minutes from start to finish. We explain all three options in this guide, and once you're up and running you'll be able to browse the internet privately, without worrying if anyone is spying on your online activity. If you haven't chosen a VPN for your Windows device yet, why not have a look at our latest recommendations.
What You'll Need
You'll need an account with a VPN provider, and you'll need to ensure you've set that up before you start. Your VPN company may ask you to confirm your account via email, so don't forget that stage.
If you're not ready to sign up to a paid subscription, many VPN providers offer free trials which will do the job just as well. ExpressVPN offers 7 days of free service, but you have to sign up to this through the app, as it's not available on the website.
We're going to demonstrate the connection process on a Windows 10 computer. This guide is written using Windows 10 Home. If you have a different version of Windows, don't worry. Try your provider's software first (Method 1, below), and you'll soon get to grips with the more advanced methods.
Method 1: Provider's VPN Software
All popular VPN providers offer a custom app for Windows. Using your VPN provider's own software is usually the fastest way to connect your devices. It also gives you access to all servers without having to install configuration files for each one.
We're using ExpressVPN as our example provider, however the setup process will be much the same for any provider you choose, and you should get a general idea from the screenshots we use here. If you get stuck, your provider will be able to offer more support.
To begin:
Download the installer from your provider's website. If you're provided with an activation code, copy it to your clipboard now.
Double-click the installer to start the process. Windows will ask you to confirm that the software can make changes to your computer.
Click Sign In.
Paste in the activation code that you copied in step 1, above. If you don't have this yet, go back to the provider's website and look for it in your account.
Click Sign In again.
Click Allow if you'd like ExpressVPN to open when your computer starts up. This is optional, but can be helpful.
Click Allow if you're comfortable sharing crash reports and other technical information with ExpressVPN. If you're privacy-conscious, you can click Don't Allow to skip this.
Click the large circular button to connect to the Smart Location ExpressVPN has chosen.
Using your provider's Windows software provides protection and quick, easy access to other handy features:
Click the Choose Location button on the connection screen to switch easily to the other servers that ExpressVPN offers. All of the connection information is pre-loaded in the app, so you don't need to manually install each one yourself.
The network lock, or kill switch, prevents your computer from accessing the internet if the VPN connection drops. This protects you against accidentally bypassing the VPN, and you can toggle it on and off by clicking the 'burger' icon (three horizontal lines) at the top-left, and then clicking Options.
There's another handy option on the same screen. If you want to be able to access other computers and printers on your network, make sure that the Allow access to local network devices such as network shares or printers checkbox is selected.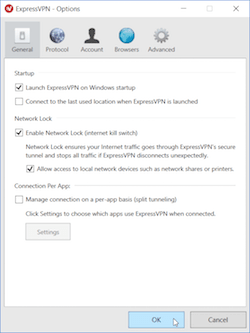 This is useful if you need to use your VPN on an office network, or in a business centre while traveling. Your internet traffic is still tunneled, but you can access the local network when you really need to. This is the only setting you should need to change to get your VPN working the way you want it to.
Method 2: OpenVPN
Your own provider's app will work just fine. But as an alternative, you could use OpenVPN, which is open source software. That means that its code is available for anyone to inspect, which gives you added peace of mind when it comes to security.
OpenVPN for Windows is a fairly minimal program, in that it doesn't have much of an interface. Most of the setup is done through the system tray, which is hidden behind an upwards arrow at the bottom-right of your taskbar.
Here's how to get going quickly with your VPN. Again, we're using ExpressVPN, but the steps are similar for all major providers:
Download the OpenVPN software from the OpenVPN website at https://openvpn.net. Remember to check the site is secure, and the URL is correct, before downloading. The Installer file is the fastest and easiest option.
Double-click the installer to begin the install process.
Click Next.
Review the license terms, and click I Agree if you are happy to continue.
On the Choose Component screen, you can customize the installation. The defaults are pictured here, and should work well. Click Next.
Choose the install location. Again, the default location is fine unless you have a specific reason to change it. Click Install.
The installation may pause here and prompt you to install TAP. This is a normal component installed for VPN connections, so there's no need to worry: click Install.

Note: if you click Don't Install here, your OpenVPN connection may not work.
Picking up the installation:
When the install has finished, you'll see the word Completed at the bottom of the install log. Click Next.
The install is complete. There's a checkbox on this final screen, and it allows you to choose whether you want to read the Readme.txt file. This file contains some quick start information. If you don't want to open it, just untick the checkbox before you click Finish.
At this point, you'll need to log on to your VPN provider's website. You're looking for its OpenVPN connection files, and the corresponding credentials.
As an example, here's the screen you're looking for on the ExpressVPN website. To get here, we clicked Set up ExpressVPN on all your devices, then Manual config. Make sure OpenVPN is selected on the right-hand side.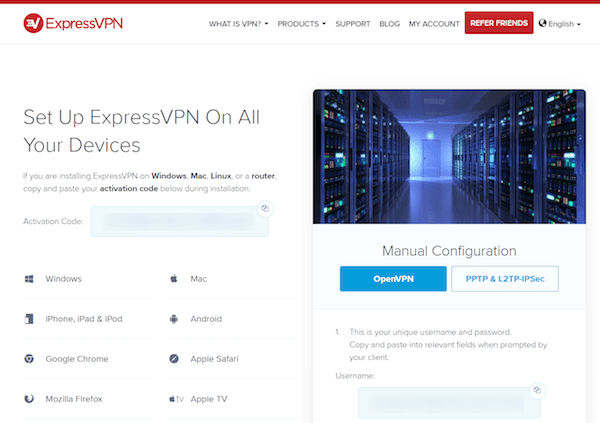 If you scroll down a little bit here, you'll find the information you need on the right: the username and password for your OpenVPN connection, as well as a list of server locations. Each location has a downloadable file, which OpenVPN calls a config file. You'll need to download at least one config file by clicking a location. If you're not sure which server to connect to, just choose one close by.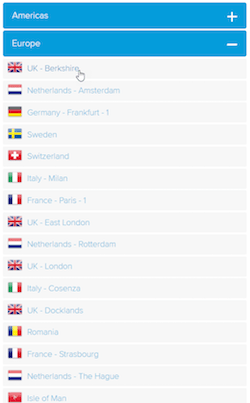 Continuing with the installation:
Find the file(s) you just downloaded, and drag to C:\Program Files\OpenVPN\config
Locate the OpenVPN GUI item in your Start menu, and click it. You may also have an icon on the desktop, if you prefer to open it from there.
In the system tray, you'll find a small connection icon for OpenVPN; right-click this, and you should see the name of the config file(s) that you just dragged over to the folder. Follow the arrow right, and click Connect in the menu that appears.
You will be prompted for a username and password. Go back to your browser and copy the username and password from the OpenVPN settings page. Don't use your web login here; it won't work.
Click OK.
The system tray icon is now green to indicate that we're connected. You can hover over the icon to see the status, or right-click it to disconnect.

Method 3: Manual Settings using a Dialler
We're using Windows 10 to demonstrate how to connect to your VPN using manual settings. With this method, you don't need to download any VPN software. Instead, you'll use I2TP/IPSec via a Windows dialer.
Other versions of Windows, and other VPN providers, will have slightly different requirements to the steps shown here, but you should get the general idea of the process:
Log on to the ExpressVPN website. Click Set up ExpressVPN on all your devices, then Manual Config. On the right-hand side, click the PPTP & L2TP-IPSec button.
Scroll down, past the username, password, and the list of server locations. Underneath, you'll see a button that says Download Windows Dialers. Click it now, but keep your browser open on this page.
Find the zip file and extract the contents into a folder on your computer.
Find the file called ExpressVPN Windows L2TP and double-click it.
After a short pause, you'll see a Network Connections dialog. Click Properties.
Click the Security tab, and check that the third checkbox, Microsoft CHAP Version 2, is selected. It should be checked by default, but this is an important setting, so it's best to be sure.
Once this is checked, you can choose the level of encryption you prefer. Select Optional…, Require encryption…, or Maximum strength. Be sure not to check the first option, "No encryption allowed…", because this will cause your connection to drop.
Click the Advanced settings button, which is located just above the Data encryption drop-down. Type the pre-shared key 12345678 and click OK.
Click OK again to close the Properties dialog.
You should now be back at the Network Connections dialog. All of the available server locations are listed in the drop-down. Pick one to test your connection. It doesn't matter which one, but it's sometimes easier to start with a geographically close server, just to make sure everything's working.
The final step is to enter the username and password for L2TP. You should still have these details open in your browser.
Click Connect to verify that everything's working. That's it!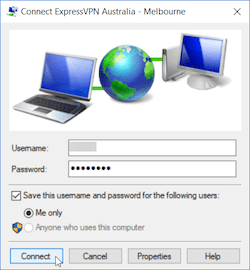 Need More Help?
If your connection fails, it's always best to step back and start with the easiest method: your VPN provider's app. If this works, you know there's an issue with the way you've set up OpenVPN, or your manual connection.
If your provider's app doesn't work, you might have forgotten to verify your account. Check your email to see if there's a message containing a verification link. If you still have no luck, reaching out to their support department is the easiest way to get things back on track.