Top10VPN is reader-supported. If you buy a VPN through our links, we may earn commissions. Learn more.
ProtonVPN Free: Ranked #50 out of 99 VPNs that we tested
Great download speeds: 69Mbps (peak local)
User-friendly custom VPN apps for popular platforms
VPN kill switch and IP leak protection
Unlimited bandwidth - no VPN data cap
Minimal logging policy
Can only access three VPN server locations
P2P not permitted on any VPN servers
Doesn't work with Netflix or BBC iPlayer
Speed & Reliability
Fast, especially for a free VPN
Speed results from our physical location in London (100Mbps fibre optic connection) to a London test server.
Before using ProtonVPN Free:
95.85

97.73

Ping

ms

3
When connected to ProtonVPN Free:
69.19

46.67

Ping

ms

15
Download speed without ProtonVPN Free: 96Mbps
Download speed with ProtonVPN Free: 69Mbps
Our download speed loss when ProtonVPN Free is running: 28%
Ignore when ProtonVPN says on its website that free users will only benefit from 'low' speeds – Proton VPN Free is very fast for a free VPN.
ProtonVPN's free servers produced pretty good speeds internationally as well as locally reaching 41Mbps to the US (from the UK).
While ProtonVPN's speeds are ideal for streaming and torrenting, these services aren't supported on the free apps.
Server Locations
Limited to three VPN server locations
3
Countries
3
Cities
?
IP Addresses
The free version of ProtonVPN only allows you to access three different VPN server locations – Japan, the Netherlands, and the US.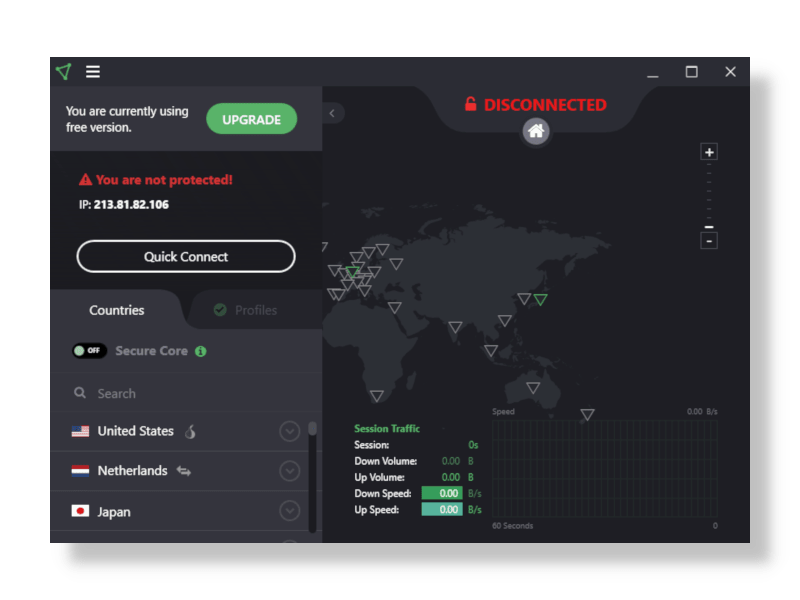 While this may not be a problem for users nearby to the free VPN servers, those elsewhere in the world will naturally experience slower speeds when using ProtonVPN Free.
It's not possible to drill down to city-level VPN servers, but if you upgrade to a premium ProtonVPN subscription you'll be treated to seven US cities and a total of 29 countries worldwide.
Streaming & Torrenting
Bad choice for streaming and torrenting fans
The free version of ProtonVPN is not designed to provide quick, hassle-free access to popular streaming sites. In fact, ProtonVPN Free simply doesn't work with Netflix or BBC iPlayer.
As it's not possible to connect to a VPN server in the UK, you won't be able to watch BBC iPlayer, and Netflix compatibility is limited to paying users.
Torrenting
ProtonVPN doesn't support torrenting (P2P) on any of its free VPN servers – this is a feature reserved exclusively for paid subscribers.
Bypassing Censorship
Doesn't work in China
ProtonVPN Free is no good for bypassing censorship in countries that block VPNs, least of all in China.
Not only does ProtonVPN Free operate exclusively on OpenVPN, the protocol that's easiest for the Great Firewall's censors to detect and block, free users also don't have access to the Secure Core servers. Secure Core is designed to provide an additional layer of obfuscation by routing traffic through multiple VPN servers.
Platforms & Devices
Custom VPN apps for main platforms & works with routers
Apps
Windows
Mac
iOS
Android
Linux
Router
Games Consoles & Streaming Devices
AppleTV
Amazon Fire TV
Chromecast
Nintendo
PlayStation
Roku
Xbox
Browser Extensions
ProtonVPN doesn't provide browser extensions for free or paid users. If you're looking for a free VPN with browser extensions, check out Windscribe.
Encryption & Security
Free version offers same robust security as premium VPN
Protocol

OpenVPN (TCP/UDP)

Encryption

AES-256

Security

DNS Leak Blocking

IPV6 Leak Blocking

VPN Kill Switch

Advanced features
Please see our VPN Glossary if these terms confuse you and would like to learn more.
Users of ProtonVPN Free benefit from exactly the same level of security as its premium VPN subscribers.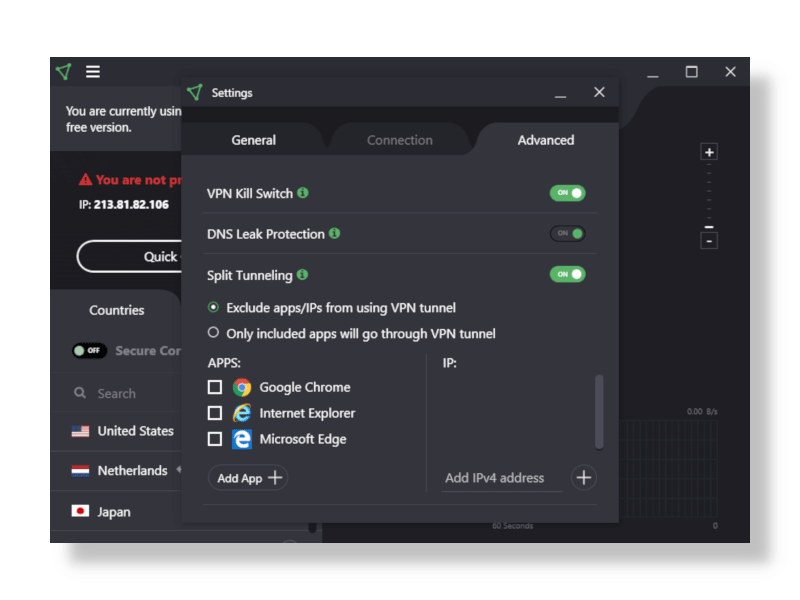 The desktop app runs exclusively on OpenVPN, the most secure VPN protocol, so you can be sure that your personal information will be protected. Encryption is via top cipher AES-256.
The VPN kill switch feature is absolutely essential, as it prevents your true IP address from being exposed in case of an unexpected connection drop.
ProtonVPN Free also protects you against DNS and IPv6 leaks, as confirmed by our independent leak tests.
Unfortunately, there are a handful of features that are limited to paid users, such as ProtonVPN's Secure Core servers or servers optimized for use with Tor. Nevertheless, it's by far the most secure (and safe) free provider we've seen.
Logging Policy
Almost zero-logs & based in safe jurisdiction
The privacy policy for ProtonVPN Basic, Plus, and Visionary also applies to ProtonVPN Free, which is great, as it's about as close to zero-logs as you can get without sacrificing VPN server performance.
The only thing ProtonVPN Free collects is the timestamp of your last successful login attempt, and this gets overwritten each time you successfully connect to the VPN.
This information is used to protect user accounts from password brute force attacks, and also to determine that nobody else is using your account.
ProtonVPN's logs doesn't contain any identifying information, such as your true IP address or physical location, meaning nothing you do while connected to ProtonVPN Free can be linked back to you.
Jurisdiction
ProtonVPN, a subsidiary of Proton Technologies AG, is based in Geneva, Switzerland, meaning its users are protected by some of the world's strongest privacy and data protection laws.
In its privacy policy, ProtonVPN does state that it will "disclose the limited user data we possess when requested by a Swiss court" but, as this can't be linked back to you as an individual, don't let it worry you too much.
Ease of Use
Easy setup & intuitive custom apps
How to Install & Set Up ProtonVPN Free
ProtonVPN's free apps are exactly as easy to use as its premium apps, with fewer server locations the only noticeable difference.
Unlike many free VPNs, which come with restrictive data caps, ProtonVPN gives free users unlimited bandwidth.
The VPN app's main screen displays your new server location and IP address, along with some useful stats such as the server load and estimated upload and download speeds.
The VPN server locations are usually arranged alphabetically, but ProtonVPN has helpfully pushed the three free countries to the top of the list and the premium servers are grayed out.
We're not used to seeing any sort of configurable options from free VPNs, so it made a refreshing change to be able to configure the VPN kill switch feature, DNS leak protection and toggle between UDP and TCP protocols.
Contextual information can be found next to most of these settings, which will be particularly helpful for VPN newbies.
Customer Support
Plenty of online resources & intermittent live chat support
ProtonVPN Free's customer support is far better than that offered by most of our other free providers.
There's an online support center that will cover basic VPN queries and troubleshooting issues, and there are also step-by-step installation guides for all supported devices, including those that need to be manually configured.
ProtonVPN has a live chat feature but it's unclear at what times of the day this is available, as sometimes the chat icon is there, but other times it's inaccessible.
When we were able to get in touch with someone, we received timely, detailed responses that were able to help us solve all of our problems.
You've read our expert review - read on for reviews from real users.
User Reviews
Based on 1 review
5 star

(1)

4 star

(0)

3 star

(0)

2 star

(0)

1 star

(0)
Share your thoughts to help others
Great VPN for those who put security first

I've been using ProtonVPN for almost a year now. It's super easy to use and they are adding news servers which increase speed. I wish they had live support but other than that, great service. Btw, this product was built by the same team who built ProtonMail. You can't go wrong with Mr. Robot!