Proton VPN Free Review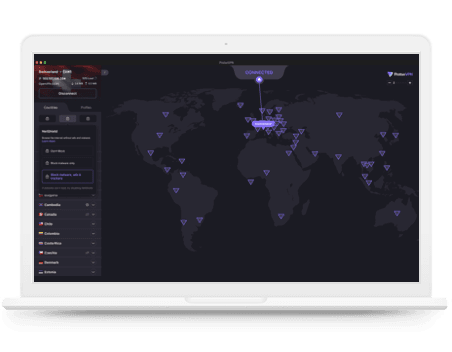 Privacy & Logging Policy
Proton VPN Free is private and safe
The privacy policy for the paid version of Proton VPN also applies to Proton VPN Free. The logging policy is as close to no-logs as you can get without sacrificing VPN server performance.
The connection data that is collected is used to protect user accounts from password brute force attacks, and also to determine that nobody else is using your account.
Proton VPN's logs don't contain any identifying information such as:
Your true IP address or physical location
The apps and websites (DNS requests) you visit while connected
Proton VPN also operates under the jurisdiction of Switzerland. This allows you to benefit from some of the world's strongest privacy laws, which are outside of EU data laws and the 14 Eyes surveillance alliance.
This, along with Proton VPN's private minimal-logs policy, means that nothing you do while connected to Proton VPN Free can be linked back to you.
Proton VPN is a trustworthy service
Proton VPN is a very trustworthy and reputable VPN service. The VPN is provided by the same team as the highly-respected encrypted email service, ProtonMail.
The company is active in the privacy community, making donations to protect digital freedom in Hong Kong, and even influencing Swiss surveillance law.
Unlike many free VPNs, Proton VPN Free does not make money by collecting and selling user data.
Instead, the VPN generates revenue from its paid VPN, with these paying customers offsetting the costs of running the free service. This business model is ideal for a free VPN, since it does not invade your privacy.
Speed
Proton VPN is a fast free VPN
Unlike many free VPNs, Proton VPN does not impose any data or bandwidth caps to slow you down. Our tests have measured slower speeds during peak times, though, as there are not many servers to share the load.
Here are the full results we recorded when connecting to all three Proton VPN server locations from London, UK with a 100Mbps internet connection:
| Server Location | Download Speed (Mbps) | Upload Speed (Mbps) | Ping (ms) | Distance (miles) |
| --- | --- | --- | --- | --- |
| No VPN | 100 | 100 | 1 | 0 mi |
| Netherlands | 95 | 69 | 14 | 328 mi |
| USA | 61 | 39 | 154 | 4,484 mi |
| Japan | 15 | 1 | 211 | 5,870 mi |
As Proton VPN Free only offers three server locations, your speeds will depend on how close you are to these locations. For example, you can expect very slow speeds if you're connecting from Africa, as there is not a single server in the continent.
These free servers are less advanced than the plus servers, too, with each having a server capacity 90% smaller than those available to paid users. As Proton VPN only provides 200 servers for free users, these servers are often congested — which can lead to further slowdowns and buffering.
EXPERT TIP: For the fastest speeds, enable 'VPN Accelerator' in the app's settings.
Server Locations
Only three free Proton VPN server locations
3 Countries
3 Cities
200+ IP Addresses
Proton VPN Free's servers are spread out as follows:
The Netherlands: 45 servers
US: 22 servers
Japan: 6 servers
Speeds are reasonably fast near the three VPN server locations above, but we experienced slower speeds connecting from further away.
It's also not possible to drill down to city-level VPN servers, which you can only do with a premium Proton VPN subscription (with access to 66 countries, including 11 US cities).
Although the 73 VPN servers seems like a small amount, each server is actually a load balancer that reroutes traffic to a pool of over 200 servers.
That said, the free servers are still often overly congested, resulting in slow speeds and connection interruptions.
Impressively, Proton VPN Free's server network benefits from the same level of security as the paid service.
All the free servers are in fact bare-metal servers, physically located in the countries they claim to be, and are leased from trusted data centers that allow the VPN to maintain its minimal-logs policy.
Streaming
Proton VPN Free is bad for streaming and torrenting
Proton VPN Free can access YouTube and other open video platforms, as these don't typically detect and block VPN connections.
However, the free VPN didn't work with Netflix, Prime Video, HBO and many other streaming services. We recommend using free Netflix VPNs verified to work.
To unblock Netflix with Proton VPN, as well as BBC iPlayer and Disney+, you'll have to upgrade to the paid product.
Torrenting
Proton VPN Free isn't suitable for torrenting
While Proton VPN is safe and secure enough for P2P, it blocks torrenting traffic on all its free servers.
When we tried to download a torrent file using BitTorrent, the Proton VPN app blocked our traffic and issued an error message: "Torrenting is a feature reserved exclusively for paid subscribers."
Similarly to streaming, you'll have to use the premium version of Proton VPN for torrenting. Or, use a secure free VPN that allows torrenting.
Bypassing Web Censorship
Proton VPN Free doesn't work in China
Proton VPN's apps include its custom Stealth VPN protocol, developed specifically to bypass internet censorship.
Using Stealth, we've been able to access the free internet in highly-censored countries, like Russia, Iran, and Turkey.
However, just like the paid version, Proton VPN Free doesn't work in China. Our regular China VPN tests on our Shanghai server confirm this has been the case for many months.
However, the paid version of Proton VPN includes dedicated Tor servers, which we found to work every now and again.
The problem is that Tor is much slower than VPN traffic, and therefore isn't a practical solution in our opinion.
Device & OS Compatibility
Secure apps for popular platforms and devices
Apps
Proton VPN Free is available on the following platforms:
Windows

Mac

iOS

Android

Linux

Router
Proton VPN's free Windows app
The Windows VPN client is the most fully-featured, including many configurable options, including a kill switch, WireGuard, and VPN split tunneling.
Proton VPN's free macOS app
The Mac VPN application has most of the Windows settings, although it lacks split tunneling.
Proton VPN's free Android and iOS apps
Proton VPN's free mobile apps are more limited compared to its computer software. This is commonplace among VPN services, though.
The Android app lacks a kill switch, while the iOS application only offers WireGuard as choice of VPN protocol.
Proton VPN's free native Linux client
Surprisingly, Proton VPN is the only service with a native free VPN client for Linux. It comes with a full GUI, so it's very easy to use and we highly recommend it to Linux users.
Streaming Devices
Proton VPN Free has native apps for the following streaming devices:
Amazon Fire TV

Android TV

Chromecast
Proton VPN Free has native apps for Fire TV Stick, Android TV, and Chromecast with Google TV.
Proton VPN's free plan won't unblock streaming apps, so the VPN's TV app is only useful for hiding your IP address while using Kodi and IPTV apps.
Proton VPN's free VPN router support
Proton VPN's free plan only allows one simultaneous connection, but by setting up the VPN on your home router you can removes this connection limit.
Additionally, VPN router setup lets you use Proton VPN on your Amazon's Fire TV Stick, Xbox and PlayStation.
See the full list of compatible router models on the support section of Proton VPN's website.
Security & Technical Features
Free version offers same robust security as premium VPN
| Protocols | Available in Proton VPN Free |
| --- | --- |
| IKEv2/IPSec | Yes |
| OpenVPN (TCP/UDP) | Yes |
| WireGuard | Yes |
| Encryption | Available in Proton VPN Free |
| --- | --- |
| AES-128 | No |
| AES-192 | No |
| AES-256 | Yes |
| Blowfish | No |
| ChaCha20 | Yes |
| Security | Available in Proton VPN Free |
| --- | --- |
| DNS Leak Blocking | Yes |
| First-party DNS | No |
| IPv6 Leak Blocking | Yes |
| Supports TCP Port 443 | No |
| VPN Kill Switch | Yes |
| WebRTC Leak Blocking | No |
| Advanced Features | Available in Proton VPN Free |
| --- | --- |
| Ad Blocker | No |
| Dedicated IP | No |
| Double VPN | No |
| Smart DNS | No |
| Static IP | No |
| SOCKS | No |
| Split Tunneling | Yes |
| Tor over VPN Server | No |
| Tracker Blocker | No |
Proton VPN is one of the first VPN services to publish its source code and become wholly open-source. This means Proton VPN can be inspected by anyone, ensuring user data is not being mishandled and that Proton VPN's encryption and security techniques are watertight.
On top of this, Proton VPN published a third-party security audit of its VPN service on all platforms, with all vulnerabilities being either accepted or fixed.
The free VPN comes with a range of security features, including a VPN kill switch. This prevents your true IP address from being exposed in case of an unexpected connection drop. Split tunneling is also available, allowing users to exclude some internet traffic from the VPN tunnel.
Data is encrypted using AES-256 or ChaCha20, depending on whether you use OpenVPN or WireGuard. OpenVPN and WireGuard are both open-source and highly secure. You can be sure that your personal information will be protected.
Proton VPN Free also protects you against DNS and IPv6 leaks, as confirmed by our IP and DNS leak tests.
Sadly, there are a handful of features that are limited to paid users, such as Proton VPN's Secure Core servers. This feature increases privacy by routing traffic through multiple VPN servers, so its absence makes the free version less secure than the paid offering.
Nevertheless, thanks to its use of best-in-class encryption protocols and ciphers, Proton VPN Free is the most secure free VPN we've seen and you can rely on it to encrypt your online traffic.
Ease of Use
Proton VPN's free apps are easy to set up and intuitive
How to Connect to a Server with Proton VPN Free
How to Change Settings in Proton VPN Free
We're not used to seeing any sort of configurable options from free VPNs, so it made a refreshing change to be able to configure the VPN kill switch feature, DNS leak protection, and toggle between UDP and TCP protocols.
Contextual information can be found next to most of these settings, which will be particularly helpful for new VPN users.
The only drawback is the app's map interface, as we prefer a simple server list. Thankfully, you can collapse the app down to a single column, which helps usability.
Customer Support
Online resources but no live chat support
| Customer Support | Available in Proton VPN Free |
| --- | --- |
| 24/7 Live Chat Support | No |
| 24/7 Email Support | No |
| Chatbot | No |
| Live Chat Support | No |
| Email | Yes |
| Email Support via Online Form | No |
| Tutorial Videos | No |
| Online Resources | Yes |
There's an online support center that will cover basic VPN queries and troubleshooting issues, and there are also step-by-step installation guides for all supported devices, including those that need to be manually configured.
The best way to get assistance, though, is through Proton VPN's email support. The email support team is very knowledgeable and answered our technical questions without any problem. The disadvantage to this method is that they are slow to respond. We sometimes had to wait over three days for an answer.
The Bottom Line
Do We Recommend Proton VPN Free?
Proton VPN Free is one of the best free VPNs we've tested. It comes from a highly-respected cybersecurity firm, it's very safe to use, and all the apps are open-source.
As we mentioned in the review above, Proton VPN Free is also the only safe free VPN with unlimited bandwidth. You can also install it on your home router, letting your secure all your household's devices.
But, Proton VPN Free has some significant downsides compared to its paid offering.
Most notably, the free VPN can't unblock content platforms and torrenting activity is blocked on its three free server locations.
Nevertheless, Proton VPN Free remains an excellent choice if you don't want to spend a cent. Although it lacks many advanced VPN features, it's faultless for hiding your web activity from your ISP and for securing unsafe public WiFi networks.
Proton VPN Compared to Other Free VPNs
The table below compares Proton VPN to two alternative free VPN services, Windscribe and TunnelBear.
As you can see, Proton VPN Free is a high-quality free VPN. Its streaming and torrenting performance is bad, but it's the only safe free VPN with no data caps whatsoever.
Alternatives to Proton VPN Free
Windscribe
Windscribe is an excellent all-round free VPN. It's very good for streaming, torrenting, and comes with a VPN kill switch as well as DNS leak protection. Windscribe Free comes with a 10GB monthly data limit, though. Read Windscribe review

TunnelBear
TunnelBear's free VPN has servers in 47 countries. It's safe, secure, and easy to use, but it comes with a very limiting 500MB monthly data cap. Read TunnelBear review
---
User Feedback for Proton VPN Free