Disclosure: Top10VPN.com is reader-supported. We may earn commissions if you buy a VPN through links on our site.
ProtonVPN Free Review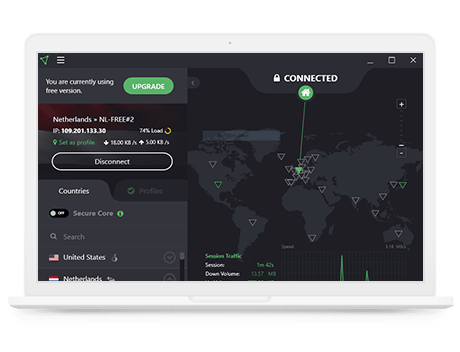 Our Verdict
If you're looking for a free VPN we absolutely recommend ProtonVPN Free. It's very safe to use, its apps are open-source, and it comes with unlimited data. ProtonVPN free comes with just three server locations and it doesn't work with Netflix or torrenting, but it is a top choice for those seeking high levels of privacy without spending a cent.
From the images of its underground Swiss data centers to its regularly updated transparency report, ProtonVPN Free definitely wants users to feel safe using its product.
But do ProtonVPN's claims of "transparency," "honesty," and "security first" add up? Do free customers get the same level of online security and privacy as its paid subscribers?
We've tested every aspect of this VPN to create the most comprehensive ProtonVPN Free review. Here are some of the key questions we'll answer:
Is ProtonVPN Free safe?
Does it work with Netflix?
How fast is ProtonVPN Free?
Is it a good VPN?
Can you torrent using ProtonVPN Free?
We found that ProtonVPN Free is one of the best free VPNs on the market. Its use of AES-256 encryption with OpenVPN provides an affordable way to protect your online traffic.
Its unlimited bandwidth is impressive, too, but the VPN comes with just three server locations and it doesn't work with Netflix or torrenting. Overall, ProtonVPN Free is good enough for private web browsing but it cannot compete with the paid version.
Read our detailed review of the paid version of ProtonVPN here.
ProtonVPN Free Pros & Cons
Unlimited bandwidth — no VPN data cap
Minimal logging policy
VPN kill switch & no IP/DNS/WebRTC leaks
Great short-distance speeds of 60Mbps
User-friendly VPN apps (open-source & audited)
Only three VPN server locations
Torrenting not permitted on any servers
Doesn't work with Netflix or BBC iPlayer
Doesn't bypass Chinese censorship
ProtonVPN Free Key Summary
Data Cap
Speed
Logging Policy
Data Leaks
Jurisdiction
Servers
IP Addresses
Countries
US Netflix
Torrenting
Works in China
Support
Cheapest Price
Official Website
Premium
Free
Unlimited
Unlimited
85Mbps
60Mbps
Anonymous Server Usage Data
Anonymous Server Usage Data
No
No
Switzerland (Privacy Haven)
Switzerland (Privacy Haven)
801
16
801+
16+
51
3
Yes
No
Restricted
Restricted
No
No
Email & Online Resources Only
Email & Online Resources Only
$4.00/mo over 12 Months
Free
ProtonVPN.com
Often free VPNs are frustratingly slow, but ProtonVPN proved otherwise. Before we reveal how well ProtonVPN did in our speed tests, let's take a look at who's behind the VPN and its logging policy.
Who is ProtonVPN Free?
About & Logging
ProtonVPN was founded in 2007 and is operated by ProtonVPN AG. It has close ties to Proton Technologies AG, the company that owns the reputable encrypted email service ProtonMail.
ProtonVPN AG is based in Geneva, Switzerland, meaning its users are protected by some of the world's strongest privacy and data protection laws.
In its privacy policy, ProtonVPN does state that it will "disclose the limited user data we possess when requested by a Swiss court" but, as this can't be linked back to you as an individual, it's not a privacy risk.
Logging Policy
The privacy policy for the paid version of ProtonVPN also applies to ProtonVPN Free. This is great, as ProtonVPN's logging policy is as close to no-logs as you can get without sacrificing VPN server performance.
The only thing ProtonVPN Free collects is the timestamp of your last successful login attempt, and this gets overwritten each time you successfully connect to the VPN.
This information is used to protect user accounts from password brute force attacks, and also to determine that nobody else is using your account.
ProtonVPN's logs don't contain any identifying information such as:
Your true IP address or physical location
The apps and websites (DNS requests) you visit while connected
This means that nothing you do while connected to ProtonVPN Free can be linked back to you.
Quick for a free VPN
Speed & Reliability
ProtonVPN Free is pretty fast for a free VPN, and there are no data caps to slow you down either. However, we have experienced slower speeds during peak times, as premium users are granted priority.
While a speed loss of around 36% connecting to the nearest VPN server (UK to the Netherlands) isn't that fast in comparison to the top paid-for VPNs, ProtonVPN is still quick for a complimentary service.
Local Speed Test Results
Before using ProtonVPN Free:
94

98

Ping

ms

3
When connected to ProtonVPN Free:
60

59

Ping

ms

22
Download speed without ProtonVPN Free: 93.78Mbps
Download speed with ProtonVPN Free: 59.77Mbps
Our download speed loss when ProtonVPN Free is running: 36%
Speeds do take a hit if you're connecting to VPN servers further away from your physical location — we experienced a 78% drop-off connecting from the UK to the US.
Here are the average speeds to expect from the UK to ProtonVPN's other free VPN servers:
USA: 21Mbps (download) & 15Mbps (upload)
Japan: 19Mbps (download) & 15Mbps (upload)
While ProtonVPN's speeds on nearby servers are sufficient for streaming and torrenting, these services aren't supported on the free apps.
To find out how we test VPN speeds you can look at our How We Review VPNs page.
Limited to three VPN server locations
Server Locations
3
Countries
3
Cities
16+
IP Addresses
The free version of ProtonVPN only allows you to access three different VPN server locations – Japan, the Netherlands, and the US.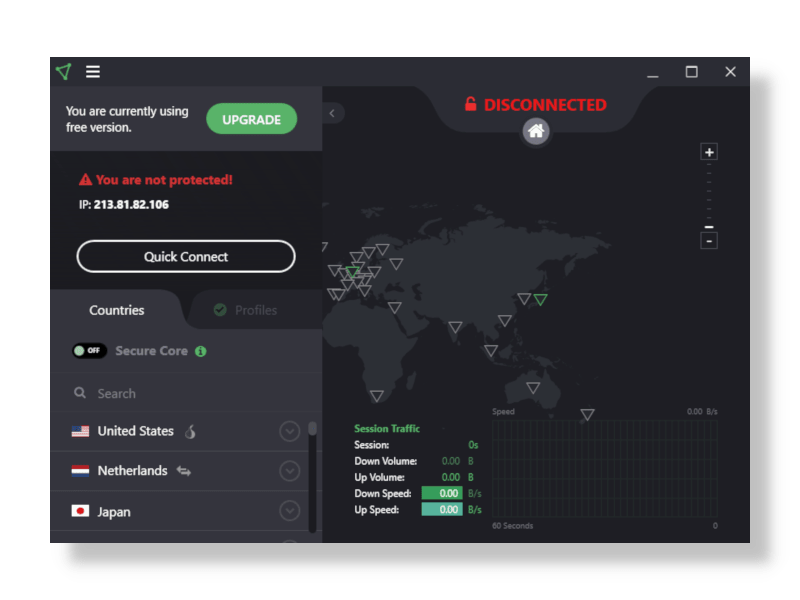 While this may not be a problem for users nearby to the free VPN servers, those elsewhere in the world will naturally experience slower speeds when using ProtonVPN Free.
There are a total of sixteen individual VPN servers available to free users, a very small number which will also slow down speeds at peak times.
It's not possible to drill down to city-level VPN servers, but if you upgrade to a premium ProtonVPN subscription you'll be treated to 11 US cities and a total of 51 countries worldwide.
While ProtonVPN does not have any virtual servers, it does rent some of the bare-metal servers in its network. ProtonVPN leases these servers from trusted data centers that allow the VPN company full access in order to ensure its minimal logs policy is maintained.
Bad choice for streaming and torrenting
Streaming & Torrenting
Our manual and automated tests found that ProtonVPN Free does not work with US Netflix or BBC iPlayer.
ProtonVPN Free failed to unblock US Netflix, Disney+, HBO Max, Amazon Prime Video, and Hulu on its US server. As it's not possible to connect to a VPN server in the UK, you won't be able to watch BBC iPlayer, either.
If you want to unblock geo-restricted streaming sites with ProtonVPN — you'll have to upgrade to the paid plan. The paid version of ProtonVPN regularly unblocks US Netflix, BBC iPlayer, and Disney+ in our testing — all while maintaining fast enough speeds for HD streaming.
Torrenting
While ProtonVPN is safe and secure enough for P2P, it doesn't support torrenting on any of its free VPN servers – this is a feature reserved exclusively for paid subscribers (Basic, Plus and Visionary plans). Check out our full ProtonVPN torrenting guide for more.
If you need a free VPN to keep you safe while torrenting, check out our top recommendations here.
Doesn't work in China
Censorship
ProtonVPN's free VPN is no good for bypassing censorship in countries that block VPNs, least of all in China.
Not only does ProtonVPN operate on OpenVPN, the protocol that's easiest for the Great Firewall's censors to detect and block, free users also don't have access to the Secure Core servers.
Secure Core is designed to provide an additional layer of obfuscation by routing traffic through multiple VPN servers, but even then it's not always enough to get past China's censors.
If you need a reliable VPN for China, you'll likely have to pay for it – here are our top recommendations.
Due to ProtonVPN's tiny free server network, it won't be a good VPN choice for those in other high censorship countries like Turkey, Russia, or the UAE.
Custom VPN apps for main platforms & works with routers
Platforms & Devices
Apps
Windows
Mac
iOS
Android
Linux
Router
ProtonVPN's free VPN is available on:
Microsoft Windows
Apple MacOS
Android
iOS
All of the VPN apps are open-source and have been audited by consulting firm SEC Consult, making ProtonVPN super transparent.
There's also a simple manual workaround for Linux users.
Unlike its premium VPN plans, ProtonVPN's free plan only allows you to connect on one device at a time.
Games Consoles & Streaming Devices
AppleTV
Amazon Fire TV
Chromecast
Nintendo
PlayStation
Roku
Xbox
ProtonVPN Free doesn't have any native apps for streaming devices or games consoles, but there is a workaround.
Since ProtonVPN's free plan only allows you to use the VPN service on one device at a time, installing it at router level is a good move if you want to protect multiple devices, including streaming devices like Amazon's Fire TV Stick and games consoles like Xbox or PlayStation.
You can find the full list of compatible router models on the support section of ProtonVPN's website.
If you're a Fire TV Stick user, though, we suggest you take a look at these free Firestick VPN apps, for a much simpler and quicker setup.
Browser Extensions
ProtonVPN doesn't provide browser extensions for free or paid users. If you're looking for a free VPN with browser extensions, check out Windscribe.
Free version offers same robust security as premium VPN
Encryption & Security
Protocols

IKEv2/IPSec

OpenVPN (TCP/UDP)

Encryption

AES-256

Security

DNS Leak Blocking

IPV6 Leak Blocking

VPN Kill Switch

Advanced features

Split Tunneling
Please see our VPN Glossary if these terms confuse you and would like to learn more.
Users of ProtonVPN Free benefit from exactly the same level of security as its premium VPN subscribers, making it one of the safest free VPNs around.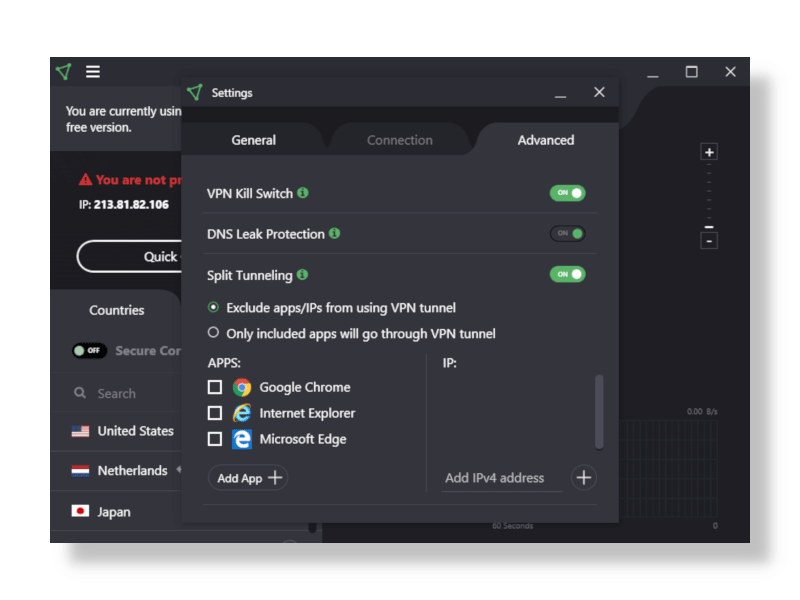 The desktop apps run exclusively on OpenVPN, the most secure VPN protocol, so you can be sure that your personal information will be protected. Encryption is via top cipher AES-256. The Android app gives the option to connect with either OpenVPN or IKEv2, which is also very secure, while the iOS app is IKEv2-only.
The VPN kill switch feature is absolutely essential, as it prevents your true IP address from being exposed in case of an unexpected connection drop. Split tunneling is also available, allowing users to exclude some internet traffic from the VPN tunnel.
ProtonVPN Free also protects you against DNS and IPv6 leaks, as confirmed by our independent leak tests.
Unfortunately, there are a handful of features that are limited to paid users, such as ProtonVPN's Secure Core servers, which increase privacy by routing traffic through multiple VPN servers. ProtonVPN Free also lacks servers optimized for use with Tor.
Nevertheless, it's one of the most secure (and safe) free providers we've seen.
Easy setup & intuitive custom apps
Ease of Use
How to Install & Set Up ProtonVPN Free
Getting up and running with ProtonVPN Free is super easy and will only take you a couple of minutes from start to finish.
Once downloaded, ProtonVPN's free apps are exactly as easy to use as its premium apps, with fewer server locations the only noticeable difference.
Unlike many free VPNs, which come with restrictive data caps, ProtonVPN gives free users unlimited bandwidth.
We're not used to seeing any sort of configurable options from free VPNs, so it made a refreshing change to be able to configure the VPN kill switch feature, DNS leak protection and toggle between UDP and TCP protocols.
Contextual information can be found next to most of these settings, which will be particularly helpful for VPN newbies.
Plenty of online resources & intermittent live chat support
Customer Support
| | |
| --- | --- |
| Email | Yes |
| Online Resources | Yes |
ProtonVPN Free's customer support is far better than that offered by most of our other free providers, but it hasn't got a patch on premium services as there's no live chat.
There's an online support center that will cover basic VPN queries and troubleshooting issues (use the search bar to navigate), and there are also step-by-step installation guides for all supported devices, including those that need to be manually configured.
ProtonVPN has email support too and it's helpful, if pretty slow, making it fairly easy to get the assistance you need.
Do We Recommend ProtonVPN Free?
The Bottom Line
If you're looking for a free VPN we absolutely recommend ProtonVPN. It's very safe to use, all the apps are open-source, and it comes with unlimited data — which means that you can protect as much or as little of your online activity as you want.
There are some drawbacks, like the limit of three server locations and lack of streaming or torrenting support, but ProtonVPN is a top choice for those seeking high levels of privacy without having to spend any money.
Alternatives to ProtonVPN Free
Windscribe is our favorite free VPN. Windscribe Free unblocks US and UK Netflix, and also is secure enough for safe torrenting. Windscribe protects P2P traffic with a VPN kill switch and DNS leak protection. Read Windscribe review
TunnelBear's free VPN service allows you to choose between 23 server locations, which is the most generous we've seen for a complimentary service. It's safe, secure, and easy to use, too. Read TunnelBear review
---
User Feedback for ProtonVPN Free